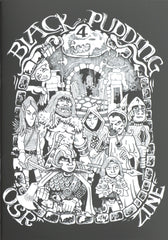 Black Pudding Issue 4
Black Pudding Issue 4 by James V.West.

The die hits the table... a 1! A sound emanates from 2d6 x 10 feet down the dungeon corridor. What wandering, shlorping oozoid is this? It's a new Black Pudding. Get your torches ready.
In this issue you get new classes, a double helping of Meatshields, and a 15 page OSR play book, complete with the basic classes, rules, and Black Pudding flavor to enhance or replace your current play book. For use with dice of funny sides. Inspired by games such as Labyrinth Lord, The Black Hack, and Swords & Wizardry White Box.
The PDF edition of Black Pudding Issue 4 is available as a Pay What You Want PDF from RPGNow.com: http://www.rpgnow.com/product/237995/Black-Pudding-4