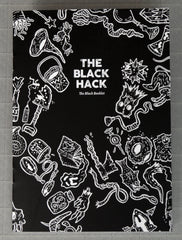 The Black Hack 2nd Edition Rule Booklet
All the essential rules you need (excluding monsters) to play The Black Hack Second Edition in a 26 page booklet format. If you're a player then this is all you need to play. If you're a GM then this will give you faster access to the most common rules you need during a game.
The Black Hack is a super-streamlined roleplaying game that uses the Original 1970s Fantasy Roleplaying Game as a base, and could well be the most straightforward modern OSR compatible clone available. If speed of play and character creation, compatibility, and simple - yet elegant rules are what you yearn for. Look no further!
Note: Purchasing this booklet does not include access to the PDF version which may be purchased here: https://www.rpgnow.com/product/263552/The-Black-Hack-Booklet-Second-Edition