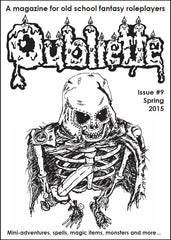 Oubliette Issue 9 Print Edition
Oubliette Issue 9 (Spring 2015)
A magazine for old school fantasy roleplayers.
Written for Labyrinth Lord but also ideal for use with any Basic/Expert/Advanced original or clone with little or no adjustment required.
Oubliette is back! In a new compact format. This printed edition is also available from the Oubliette blog here: http://oubliettemagazine.blogspot.co.uk/2015/04/oubliette-issue-9-out-now.html buying from the blog will be cheaper if this is the only item you wish to buy.
If you want to buy other things on this site and spend over £5, you can get a free FREE print copy of Issue 9 by entering the code "oub9". Simply add this product to your basket along with £5.00 worth of other items and a £1.50 discount will be applied.
Full Contents:
Tales from Hell
Editorial
The Fella in the Cella
Book of Lost Spells
Found Familiar The Bat
These Boots Were Made for...
Monster Club #17 Titanoboa
Pool of the Titans
D20 Hit Point String Generator